Artificial Grass Installers
Artificial Grass UK are THE premium artificial grass installers in the North West.
Artificial grass installers based on the Wirral but covering all of Liverpool, Merseyside, Cheshire and beyond.
The standard process for fitting artificial grass when replacing a traditional lawn is as follows:-
Remove traditional turf, unwanted shrubbery, foliage and trees. Experienced artificial grass installers generally use a turf cutter. This enables an even finish and prevents taking up to much top soil.
There is more than one way to skin a cat, as the saying goes. The next stage we either install tantalised/heat treated batons around the border of the area where the artificial grass installation is taking place or alternatively we use MDE plastic pipe. This is the preferred method if we are trying to maintained a curved edge or unusual shape.
The next step is to introduce an aggregate usually hardcore / mot / or plainings. An average garden of lets 8m x 4m we would normally install approximately 2 tonnes. Then rake out evenly with a landscaping rake, then compact with a wacker plate,(vibrating compacting plate).
We would then introduce a further 1-2 tonnes of eco-sand,(Which consists of mersey grit mixed with recycled concrete). Eco-sand is a very fine substance and fills in all the gaps in the hardcore, and leaves a perfectly flat surface, once we have raked out and wacked again. The eco-sand does not hold any odours, like dog urine. So, is perfect for dog friendly artificial turf installations. We also only supply artificial grass with a polyurethane back, which does not hold any urine odours.
Weed membrane is then fitted throughout to prevent any weeds finding the light and growing through the drainage holes which are present every 80mm or so in all of our artificial grass supplies.
Fitting Artificial Grass. Finally we are ready to fit the artificial grass. The artificial grass generally comes on 2m, 4m, and 5m widths. We figure out which way suits the planned fake turf area. Roll the grass out and butt up where joins will be necessary.
Joining Artificial Grass. We will cut off 4 rows off either side of the pieces of artificial grass. This will make the join less visible. Butt the artificial grass pieces together with carpet kickers, until the join is not visible. Then fold back one piece of grass back and draw a chalk line along the edge of the other piece of artificial grass. Now fold this piece of artificial grass back and position a joining piece along the line. Nail fake grass joining piece into position periodically. Now you are ready to put diagonal lines of artificial grass glue along joining piece every 25mm or so. Use a spreader all the way along to smear artificial turf glue all the way along joining tape. Carefully fold back each large piece of artificial grass back into place, knitting in leading edge by hand as you go. Stamp along line to help glue cure.
Leave for 30 mins before brushing up with electric power brush.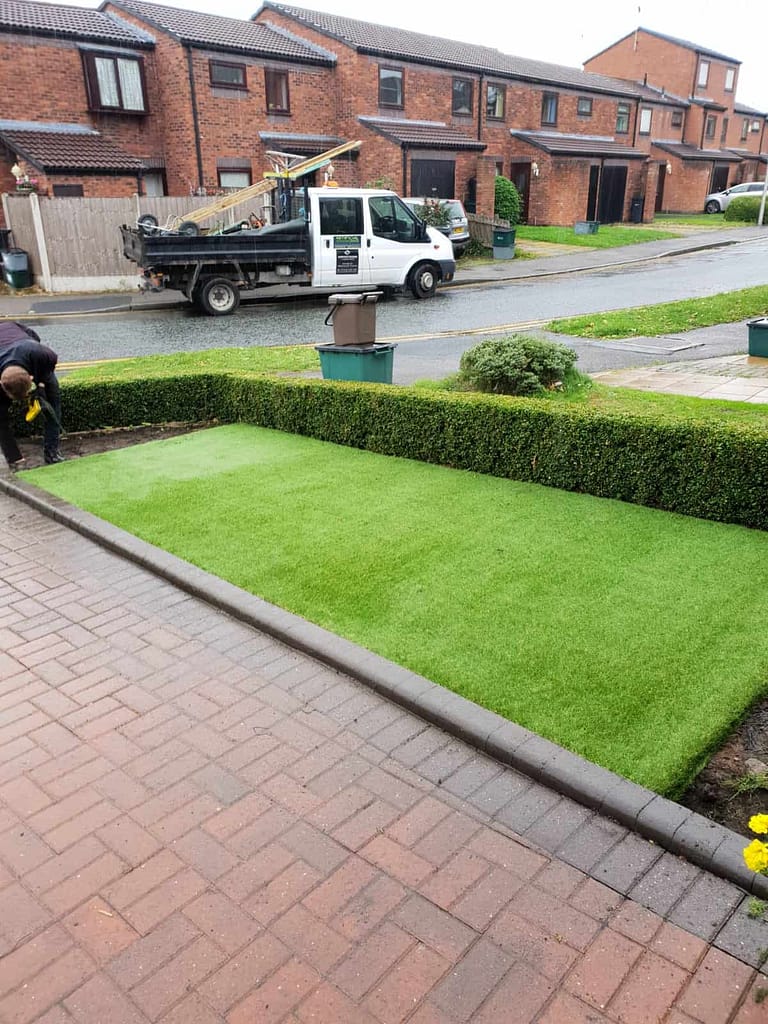 Hey Presto – A brand new idyllic garden transformation.
We work very closely with Wirral Flagging for all your paving and indian stone requirements, Composite Decking and Garden Rooms for all you decking and Garden Room enquiries and Merseyside Fencing for all your fencing enquiries.