About Us
Artificial Grass Wirral, Liverpool & Chester
Artificial Grass Wirral, Liverpool & Chester - SPECIALISE in the supply and installation of artificial lawns. So, whatever your existing surface from traditional lawn, decking or concrete. Artificial grass fitters Wirral can help transform your area into a very low maintenance, idyllic setting for you to enjoy all year round.
What a fabulous result in Woolton.
Where it all started.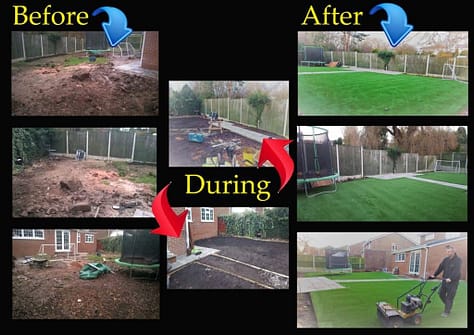 Secondly, Artificial Grass UK was founded in 2009 by Mark McCabe, Mark and his team have over 30 years experience in this sector.
Area Covered by Artificial Grass UK
Furthermore Artificial Grass UK are based on The Wirral. However we cover most of the North West. All of our synthetic turf is made in Belgium. We pride ourselves in being a hands on, loyal, friendly team. Who are passionate about what we provide. We cover all of the North West of England and North Wales but can travel further.
Check out this video from Greasby, with there top of the range artificial lawn and Indian Stone, back in March 2017.
Well Established
Whats more, Artificial Turf UK stands out from the crowd by focusing on what their clients want and need. Now celebrating their 8th year in business. Artificial Grass UK believe that long term relationships with both distributors and clients has strongly contributed to their success.
Sports and Hobbies
In addition in 2014 Artificial Grass UK began offering a more varied range of products that are often tailored to the customers needs. So, if you play golf, bowls, cricket, croquet, badminton or tennis. Hence this could be perfect for you. Maybe you require landscaping. In addition you can use synthetic grass as sports mats, horse jumps or on your touch lines. So, you name it and we try to provide it!
Excellent Customer Service
Finally Artificial Grass UK are known in the trade for their excellent customer service. Often providing next day UK deliveries. Furthermore, Artificial Grass UK distribute both throughout UK & Europe, offering a friendly after sales service.
View before and after pictures
To view many more of our previous jobs and interesting articles please click here.
So, please feel free to call Mark on 07542 682 487. We would be delighted to pop around to measure up. We also offer a free advice. Providing new ideas and an opportunity to view our fab realistic samples.
You can also email on info@artificialgrassuk.net
Landline 0151 606 9523
Or visit our Facebook page and leave a message at www.facebook.com/artificiallawn