Contact Artificial Grass UK
If you are considering Artificial Grass UK or just curious of the benefits and cost, please contact us below.
Maybe your just fed up with a Dog poop stained lawn, don't put up with it – when you can have a beautiful artificial lawn like this one at Helen's in Helsby!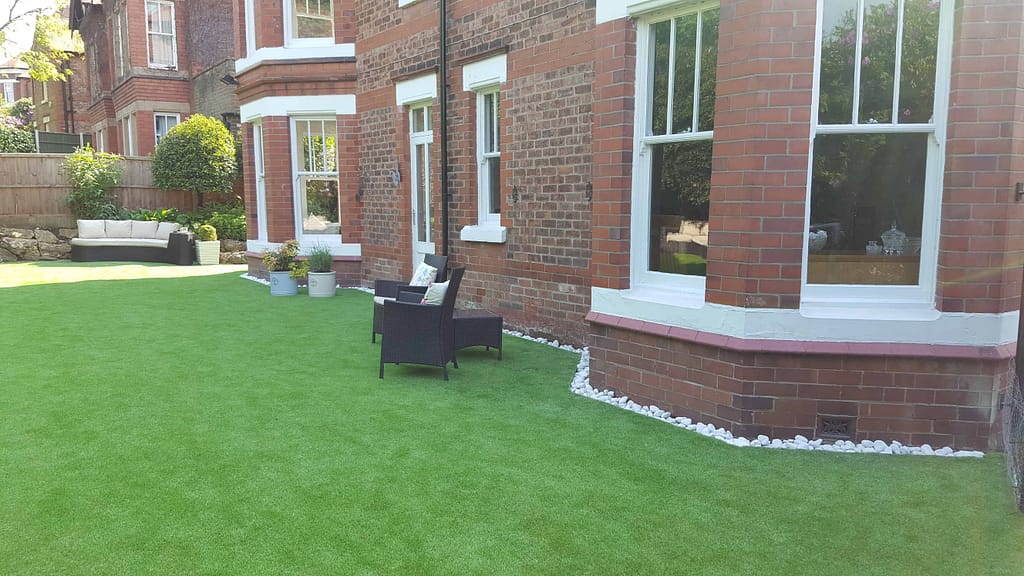 You too can have a Dog friendly lawn, that never needs mowing, feeding or any maintenance :-
There are obviously some glaringly obvious benefits for having an artificial lawn fitted, as I mentioned above no mowing, no watering, no feeding and no weeding – and no doggie poop stains but there are other less obvious benefits… Less carbon emissions because you won't be using a petrol or electric mower, no fertiliser poisoning your pets or wildlife, no nasty chemicals running of your lawn in excess water spreading pollution.
Not only this but Artificial Grass Technology has moved on so much in recent years, it is actually very different to differentiate between the real lawn, the artificial and the hybrid. Many Premier League Football pitches now consist of a hybrid turf. In years gone by because of the colossal size of the stands at many of our top football clubs grounds the pitch would not receive enough sunlight. This would then result in the turf actually being replaced 2 or 3 times within the premier league season. As you can imagine this then creates a problem of how to make the grass knit and settle into the base soil in time for the next match. Thankfully the new innovative hybrid artificial grass has solved this problem.
To view many more of our previous installations please click here.
Artificial Grass UK, Oak Lodge, Larton Livery, Frankby Styles, Frankby, Wirral. CH48 1PL
Telephone : 0151 606 9523
Mobile : 07542 682 487
Email : info@artificialgrassuk.net
Twitter: @FakeGrassWirral
Or Simply send a message via our contact form below.
Branches:-
Artificial Grass UK, Frankby Stiles, Wirral, Birkenhead, Merseyside. CH48 1PL. 0151 606 9523
Artificial Grass UK (Huyton), 5 Liverpool Road, Knowsley, Huyton. L36 3SS. 0151 606 9523
Artificial Grass UK (Chester), 38 Strawberry Fields, Great Boughton, Chester. CH3 5YF. 0151 606 9523
Artificial Grass UK (Liverpool), Bulloch House, 10 Rumford Place, Liverpool. L3 9DG. 0151 606 9523
Artificial Grass (Merseyside) Ltd, 36 Malley Close, Upton, Wirral, Merseyside. CH49 0WJ. 0151 606 9523
For a free quote and consultation simply email info@artificialgrassuk.net or if no response on the landline please call or text 07542 682 487
Summary
Name
Nickname
(
Artificial Lawns Wirral
)
Website
Job Title
Artificial Grass Supplier & Fitter
Company
Artificial Grass UK Wirral