Can you fit artificial grass yourself?
Can you fit artificial grass yourself?
Well, the answer is yes but it is not as simple as just rolling it out and pegging it down. If you want it to last, not subside and basically look awful, it is all about the preparation. Obviously it depends on what you are laying it on.
In our experience 80% of the time the artificial grass is replacing traditional grass, if you would like a thorough guide please click here- How To Lay Artificial Grass.
If you are laying it on stable slabs or concrete you would just need adequate drainage a blinding of sand and a good quality glue.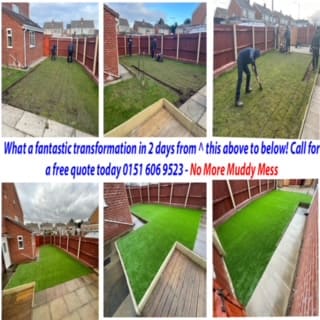 We don't recommend laying artificial grass yourself. It can become expensive and it is not an easy process. we have all the appropriate plant tools and skills to complete the job professionally and quickly. You may find you have opened a can of worms if you do try and complete it yourself. Call Mark for a free no obligation quote today on 0151 606 9523 or 07542 682 487.