Grass Range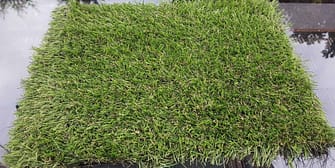 Artificial Grass UK Wirral range of synthetic grass products offers a variety of grass types to suit all needs and requirements.
Furthermore, Artificial Grass UK range of products are of the most realistic artificial grass lawns available, with a dead grass thatch that creates a more authentic appearance.
Each product is produced to the highest possible standards to give you a flawless, durable, low maintenance lawn, and all of our grass is child and pet friendly, providing a safe outdoors environment for all the family.
Proving to be our 3 most popular ranges of Artificial Grass are the new ranges "Play", "Buckingham" and the beautiful "Rome" Range.
"Play" designed with young, families and active pets in mind, as the name suggests, is "Pet Friendly" non-slip and it has quite a lot of dead pile – to give that more realistic look and feel . It is by far our most popular range and looks fantastic in situ…The pile is 25mm, designed in a "D" shape pile to help it bounce back up and not go flat in the long term(this gives a springy, bounce effect when walking on it). This also means you do no have to add kiln dried sand annually, which means even less maintenance. The cost is usually £37 per square metre supplied and fitted. This price includes all waste disposal and thorough groundwork preparation and comes with a 5 year guarantee.
Before at Helen's beautiful home in Frodsham. (well, during actually)
And then after we installed our "Play" grass ….. Helen and her family were extremely pleased and gave a wonderful reference.
The "Rome" range of grass is also "Pet Friendly" and non- slip. It is of similar design to "Play" but consists of a more dense pile and a slighter lusher look, with less dead fleck within the pile. The "Rome" range is catching up with the "Play" with its popularity. It is slightly better quality and therefore just slighter more expensive at £38 per square metre. These prices are slightly flexible depending on what the grass is to be laid upon and what has to come out. All of our grasses come with a 5 year guarantee but we expect them to last 15 years.
Before in a back yard in Wallasey Village :
And after we installed our lovely "Rome" grass… what a beautiful outdoor space for this young family to enjoy – with no hard work…
The "Buckingham" range of grass is 25mm in length consists of the "D" shape pile which again means it will readily bounce back after compression. Which means no need for any maintenance whatsoever. It has a similar density and look to the "Rome" but is a slightly different shade and feel to it. It is basically a personal preference in my opinion. The price is £37 per sq metre the same as the "Rome". Please call to arrange an appointment, so we can measure up and show you some actual samples. M: 07542 682 487.